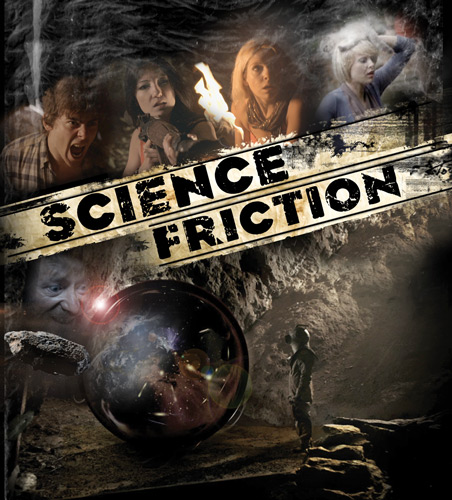 "Science Friction" (2013, Canada) – Director Liam P Kiernan – sciencefrictionthemovie.com
"Science Friction" is a movie I really wanted to like. When I was invited to the first ever screening of a new Montreal-made sci-fi movie I was very excited. The trailer promised tense drama with lots of action and other-worldly happenings – an asteroid slowing as it approaches the earth; a glowing sphere, arcing with energy; a strange figure in a diving suit wandering through a cave; explosions, blood, and fire.
The narrative of the movie concerns reluctant projectionist Jack, who is tricked into chauffeuring three girls on a drug run across the Mexican border. Deep in the Mexican woods (which look suspiciously like Quebec, but that's forgivable!), they take a wrong turn and find themselves in trouble, stranded by a dilapidated old house. Inside lives a crazed old man, Billy, and an alien presence lurks in the caves below.
The ideas underlying the narrative are clever: the alien compels each character to each face the demons of their past, to conquer the guilt that is, as one beautiful line of dialogue describes it, "tattooed upon their souls". Flashbacks and smart Tarantino-style time jumps are used to convey backstory with good effect, and I enjoyed being left with a puzzle to piece together.
Unfortunately, the movie
Read More